H2G 4000×8000 (2 Gunty)
Heavy Duty CNC Frame/plasma cutting machine
H2G4000×8000
Plasma and Flame Cutting Machine
สำหรับงานตัดเหล็กหนา 20 มม /

แนะนำเลือกใช้พลาสมา cut200 2 เครื่อง

สำหรับงานตัดเหล็กหนา 30มม /

แนะนำเลือกใช้พลาสมา cut300 2 เครื่อง

เพิ่มรางเดิน Rail ราคา 10,000บาทต่อเมตร

มีหัวตัด Gantry ให้เลือกซื้อเพื่อใช้งาน แบบ3-4 หัว(Gantry)

ราคาเพิ่มหัวตัด 50,000บาทต่อ 1 Gantry
DESCRIPTION
A good choice metal plate cutting by flame and plasma.

Machine size is due to customer's request on X and Y direction.

Strong gantry and linear rail ensures durability, stability and quick speed.

CNC controller gives screen of 15", Windows XP, English, Russian, Spanish, Portuguese, French and others

CNC Controller gives easy operation interface, shape library and cutting parameters programs.

Efficiency improvement and cutting quality functions, including Mirror, rotation, scale, repeat, skew functions, etc

USB terminal to support program and data input and output.

CNC controller supports mouse and keyboard for easy operation.

Can use FastCAM,Hypertherm and other brands nesting software.

ARC voltage THC to drive plasma torch action automatically.

Capacitor THC to drive flame torch action automatically.

Auto ignition device and flash arrestor on flame torch.

Application: for shipyard, oil industry, part production, heavy machinery, accurate cutting service supplier, etc.
Part Ⅰ: Machine Parameter
 Part Ⅱ:Key Parts List
Heavy Duty Gantry CNC plasma and flame cut #H2G4000X8000
Technical index: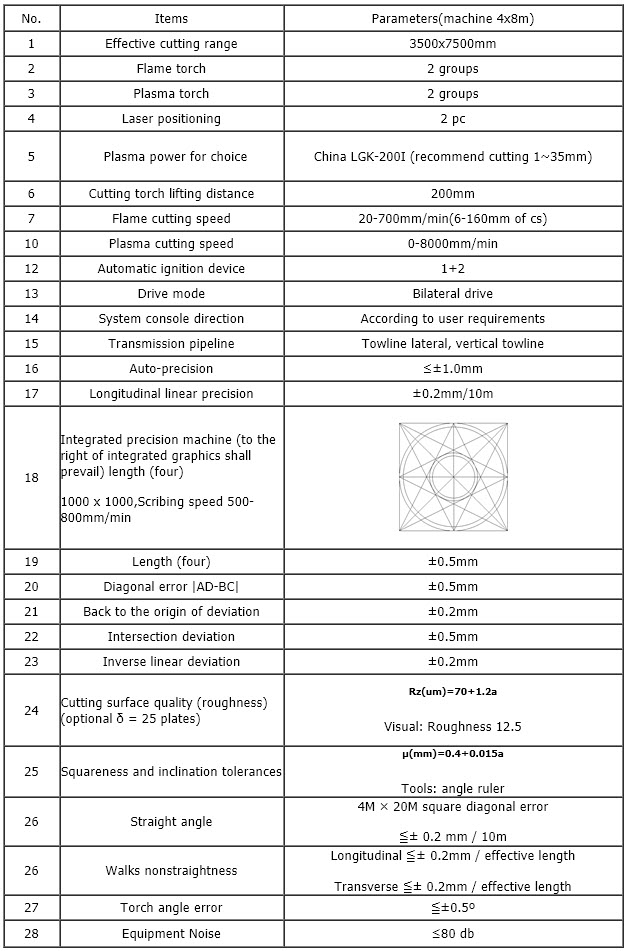 Machine structure spare parts
Component introduction
Longitudinal drive control system
Vertical use of double gear rack meshing drive, coupled with high-precision reducer, coupled with speed and position feedback, to achieve high-precision positioning drive.
Lateral drive control system
The high precision single shaft guide, to achieve the same as the mirror and move smoothly in the torch through the wire device between master and slave.
Pneumatic transmission mode
In the longitudinal direction of the mobile machine has a lot of work cable, grounding cable and gas source, this vertical moving load, running stability and reliability of this will affect the machine, the towline servo mechanism to ensure the pipeline, clean, and can reduce the overshoot tendency in turn when the high speed machine bay. Because the cutting movement of high-speed cutting to prevent damage to the pipeline running at the same time, the length of the pipe can be unnecessary surplus.
Guide
The vertical guide rail is made of heavy rail with 24kg/m of high strength and heavy load finishing, and the top and two sides are machined by special grinding machine. The horizontal guide rail adopts imported precise cold drawn profiles, which are used after precise machining. A heat treated heavy load rack is arranged on the outer side of the guide rail. It guarantees the high precision and long life of the transmission. Thus ensuring the high precision and stability of the cutting machine during the whole working period.
The plasma torch anti-collision device
360 degrees by sensor control, anti-collision mechanism, once the plasma torch has any direction impact machine stop motion.
NC rack
The whole body is made of Gantry milling and processed at one time. The frame is made by boring machine at one time. With strict assembly standard and technology, the cutting accuracy of each machine tool is guaranteed.
The hollowed out steel plate welding body is easy to dissipate heat and increases the service life of the equipment.
Machine tool beam width 600mmX300mm,strictly according to the standard heavy structure design and processing.
cut200 :Piece20~25mm Maximum edge cutting capacity:35mm

Controller system F2300B

All Chinese / English menu system

45 kinds of commonly used graphic libraries, including grid graphics, can be set .

support EIA code (G code) and FastCAM, FreeNest, SmartNest, IBE and other kinds of nesting software.

figure ratio, rotation, mirror image

graphics can be arranged in matrix, arranged alternately and stacked.

graphics steel plate correction, any steel edge can be used as correction edge.

you can self diagnose all the IO status and key state of the system, so that it is easy to check and troubleshoot.

front U disk interface, convenient for program transmission

system upgrade using U disk upgrade method, convenient and practical, provide lifelong free upgrade service. All the functions and processes of the whole system can be upgraded online, so as to avoid the worries of after sale.

support edge cutting. For thicker steel plate, preheating time can be reduced.

according to the thickness of the steel plate, the speed limit can be automatically controlled at the corner, so that it can effectively prevent overheating.

manually select the starting line or select the perforation point.

dynamic / static processing graphics display, graphics enlargement / reduction, dynamic tracking of cutting point in magnified state.

DSP high speed, high precision interpolation control, high speed operation, smooth operation, low noise.

arbitrarily setting the starting speed and the time of rising and lowering.

memory function with power break and breakpoint protection

"offset cutting" function can avoid plate waste due to miscalculation.

you can set up different administrative permissions and corresponding passwords to maintain the management's rights and interests.

remote control can be carried out on the front, back, left, right and cutting movements, such as start and stop, and so on.
The main features are as follows
Hongyuda THC-100(III)
the operation interface has a variety of practical instructions, such as collision indication, ascending and descending indication, etc. the interface is beautiful and the function is more complete.

the anti-interference performance is stronger.

add dynamic perforation function, suitable for all kinds of large plasma cutting, prolong the life of wearing parts. It can accept the Dynamic perforation control of level signal and pulse signal and use flexibly.
Star CAM nesting software introduction
to avoid and reduce the cutting space between parts and improve the utilization rate of steel.

the common edge cutting to cut one or two edges of each rectangle, effectively reducing the cutting stroke and improving the cutting efficiency.

the common edge cutting using the cutting edge preheating, avoiding the perforation, reducing the preheating time, and improving the cutting efficiency.

The cutting nozzle and the consumables are effectively saved.
Equipment delivery information
Provide an operating manual

Provide a complete set of basic installation drawings

Provide a set of safe operating procedures
List of random tools
After-sales service
ติดตั้งและทดลองให้เสร็จ ครั้งแรกและอบรม 2 ครั้งโดยไม่มีค่าใช้จ่าย

ค่าบริการเสริมครั้งต่อไปสำหรับลูกค้ากรุงเทพภายในระยะทางไม่เกิน90กิโลเมตร ครั้งละ 3,500บาท

สำหรับลูกค้าต่างจังหวัดภายในระยะทางไม่เกิน150กิโล ครั้งละ 6,500บาทหรือตามที่ตกลง
About components of machine
** บริษัทขอสงวนสิทธิ์ที่จะเปลี่ยนแปลงองค์ประกอบของเครืองซีเอ็นซีบางรายการตามความเหมาะสมโดยที่ไม่ทำให้ประสิทธิ์ภาพการใช้งานของเครื่องลดลง
฿

225,000.00

เครื่องตัด​ซี​เอ็น​ซี ​แบบ 2ราง เครื่องตัด CNC แบบรางคู่ ขับเคลื่อนสองฝั่งแบบรางรถไฟ รองรับการตัด​ 2​ระบบ (Flame & Plasma) ,รองรับกับพลาสม่าทุกรุ่น ทุกยี่ห้อ รางขับเคลื่อนแบบ "รางรถไฟ" ด้วยสะพานเฟือ…

฿

385,000.00

เครื่องตัด​ซี​เอ็น​ซี ​แบบ 2ราง เครื่องตัด CNC แบบรางคู่ ขับเคลื่อนสองฝั่งแบบรางรถไฟ รองรับการตัด​ 2​ระบบ (Flame & Plasma) ,รองรับกับพลาสม่าทุกรุ่นทุกยี่ห้อ มีเก้าอี้นั่งไปกับเครื่อง และวางพลาสม่าไว…

฿

365,000.00

YPTcnc เครื่อง CNC ตัดท่อกลม บากท่อกลม ระบบพลาสม่า CNC Pipe Cutting Machine 3 in 1 ตัดได้ 3 ระบบ เซลูล่าบีม ,ไปป์กลม ,เหล็กแผ่น 4*8 ,5*10 Cutting material : Carbon steel, Stainless steel, Alloy steel, A…